We decided to spice up our stay in Mauritius with a two night stay at the Constance Prince Maurice, one of the 5 star luxury hotels on the island, located on the East shores.
The drive from our apartment at Mon Choisy to the hotel was longer than expected, as we twist and turn to follow the many curvy roads of the Mauritian country side, bridging from the West to the East of the island, passing many sweet, but pungent smelling sugar cane fields.
The final stretch was lined with palm trees on both sides, which ended with a double, metal front gates, welcomed by staff members who have your reservations at hand. After providing our names, we were promptly let through and we drove directly to the reception area. Our luggages were handled and our car was parked for us. All we needed to do was to take our passports and were guided to the magnificent, welcome lobby, and a spectacular view of the elegantly placed, central swimming pools that blends with the natural, and beautiful beaches of Mauritius. The afternoon skies just had enough cotton clouds to contrast against the comforting blue skies. Our eyes were filled with the near perspective of man made wonder and far horizon of natural paradise that only Mauritius can offer. The welcoming experience culminates into a single word in our minds, and that is "relax".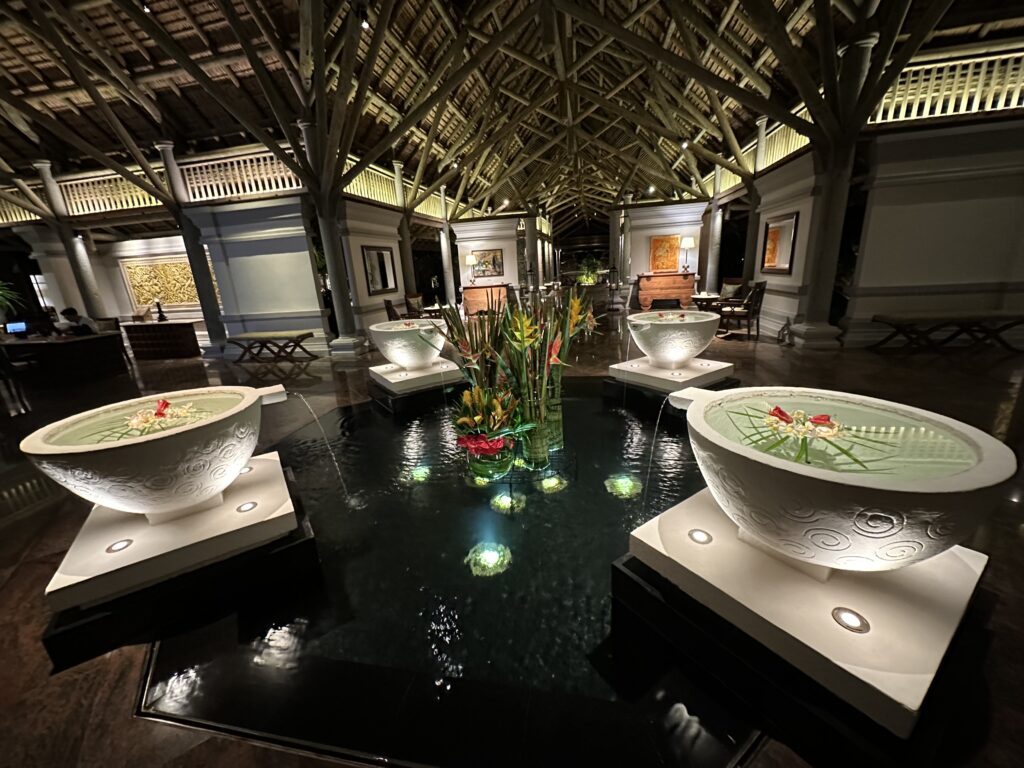 Youdish and Shaan, the manager, who handled our check in were very gracious and welcoming. Youdish had a sense of humour about him that I find it at home and was certainly easy to open up to, he was the perfect ice breaker. Shaan informed us that we were upgraded to a honeymoon suite, a junior suite on stilts, overlooking a lagoon connected to the white sand beach. Upon entering the suite, our eyes were graced with a magnificent view. I will not even attempt to use words to describe here, but check out our media below.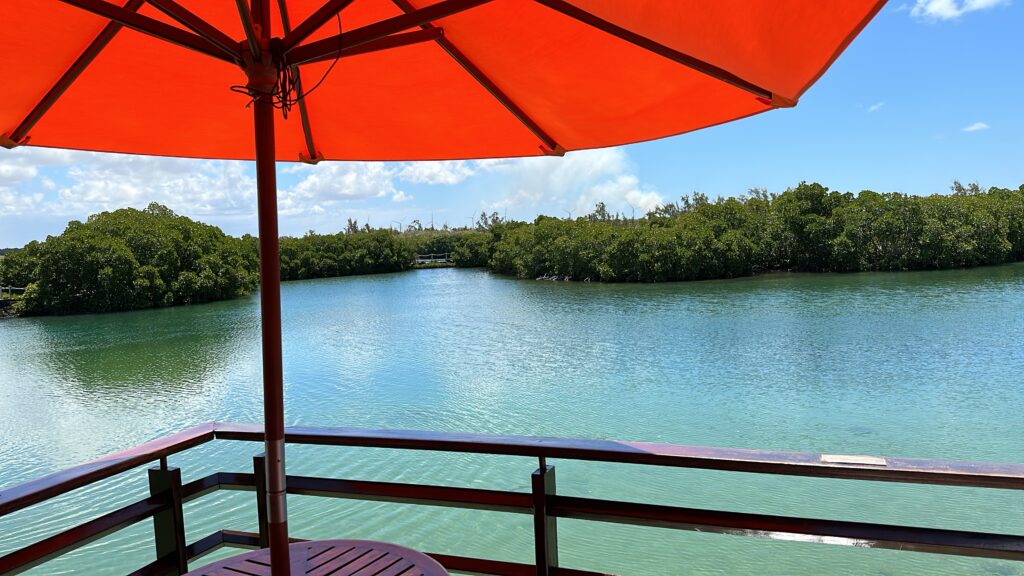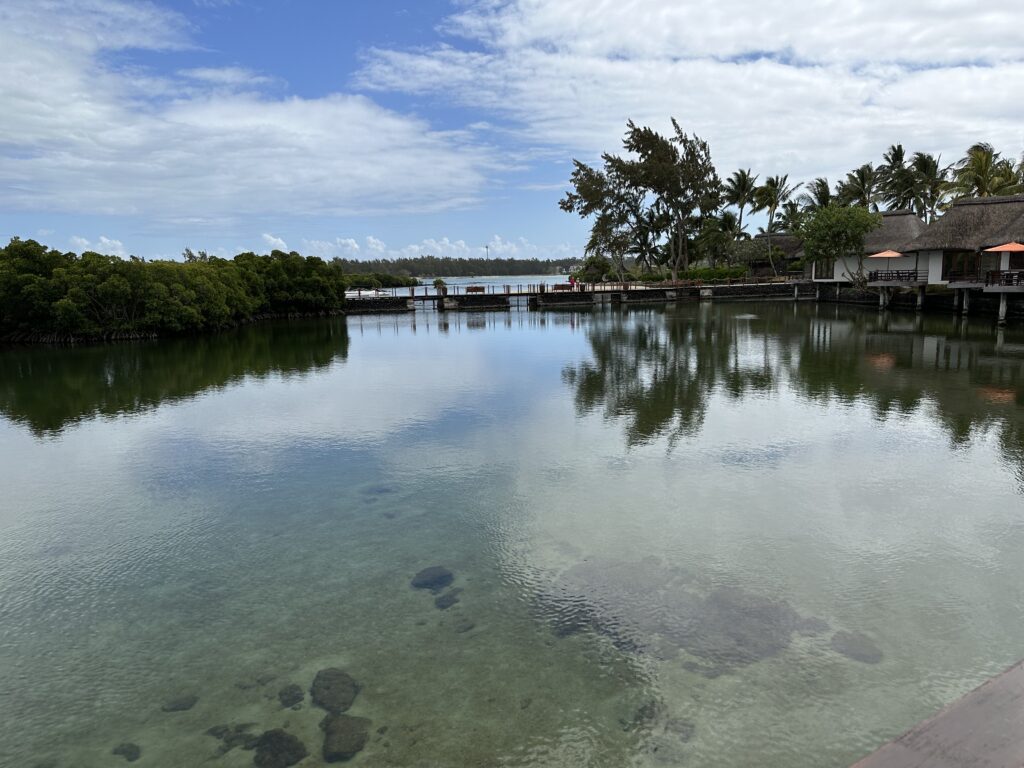 We started out our stay with a light lunch at the beach at the main restaurant, which we planned to visit again for dinner, since we were unsuccessful in attaining a reservation at the Asian restaurant. However on the same evening, I received a surprising call from Akshada, a wonderful magical worker who made it possible for us to attend the Asian restaurant that same night. We were really appreciative of this gesture. Thank you Akshada for pulling a rabbit out of your hat!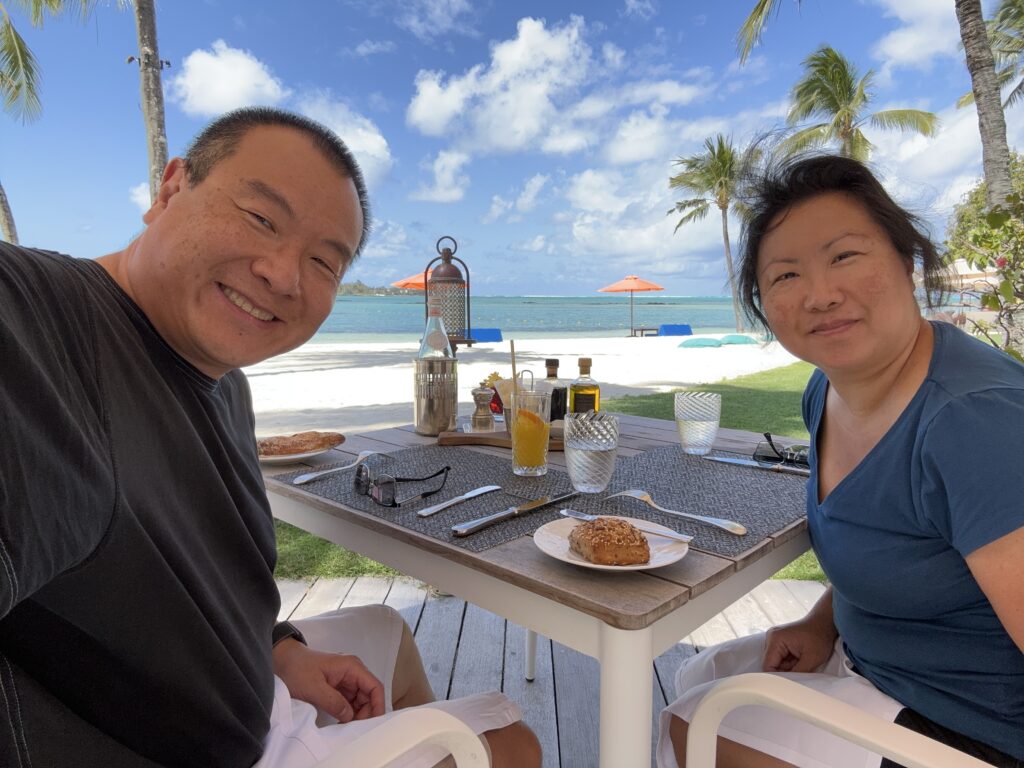 The Asian dining was very pleasant. The most enjoyable was my after dinner chat with our waitress, Anousha, who was extremely friendly. I feel that all the staff members were genuinely friendly, and not the facade that most other hotel staff put up during their working hours. I hope my five plus decades of life experience can tell the two apart!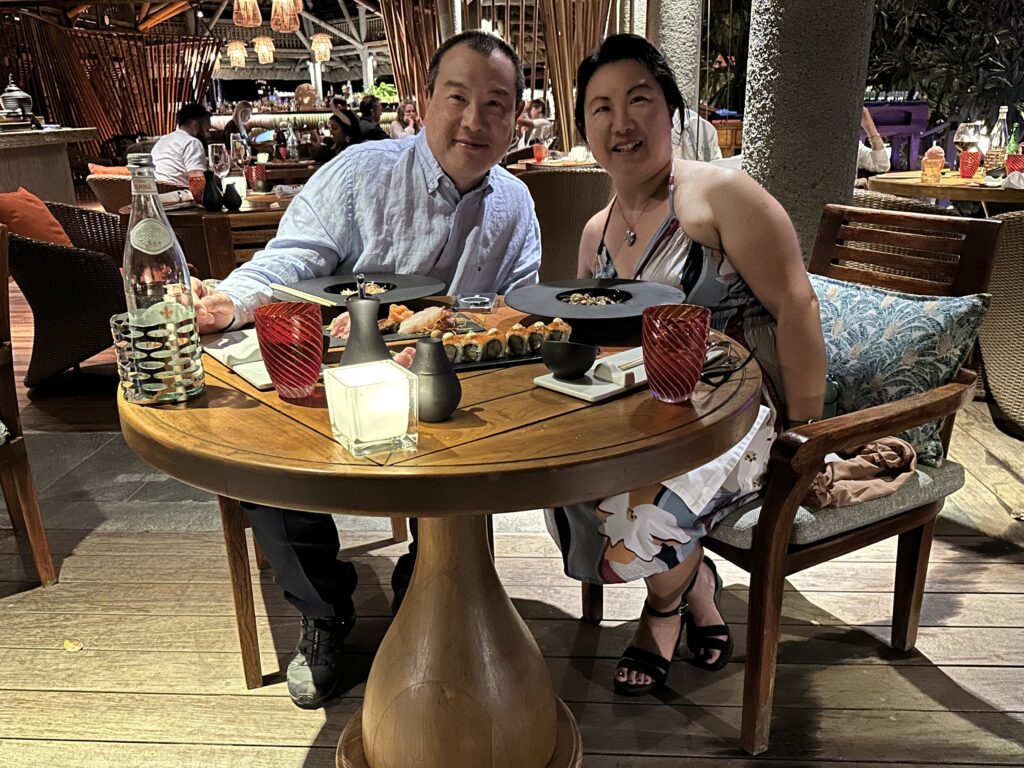 Sticking with dining experiences, the breakfasts at the main restaurant were pleasant and accompanied by the ever present, heavenly view of the sea side. The neighbouring birds all seem friendly enough to dine with us adding to our angelic culinary experience.
Another special restaurant is one that consists of several floating platforms on the lagoon. Each platform consists of around four to five tables. We had our last dinner there, where I had the scrumptious and mouth watering Sous Vide veal on the rib. That was the best piece of meat that I have tasted in recent memories. There are fishes of different sorts swimming around the platform, and a light rain that evening, added nuance during dining.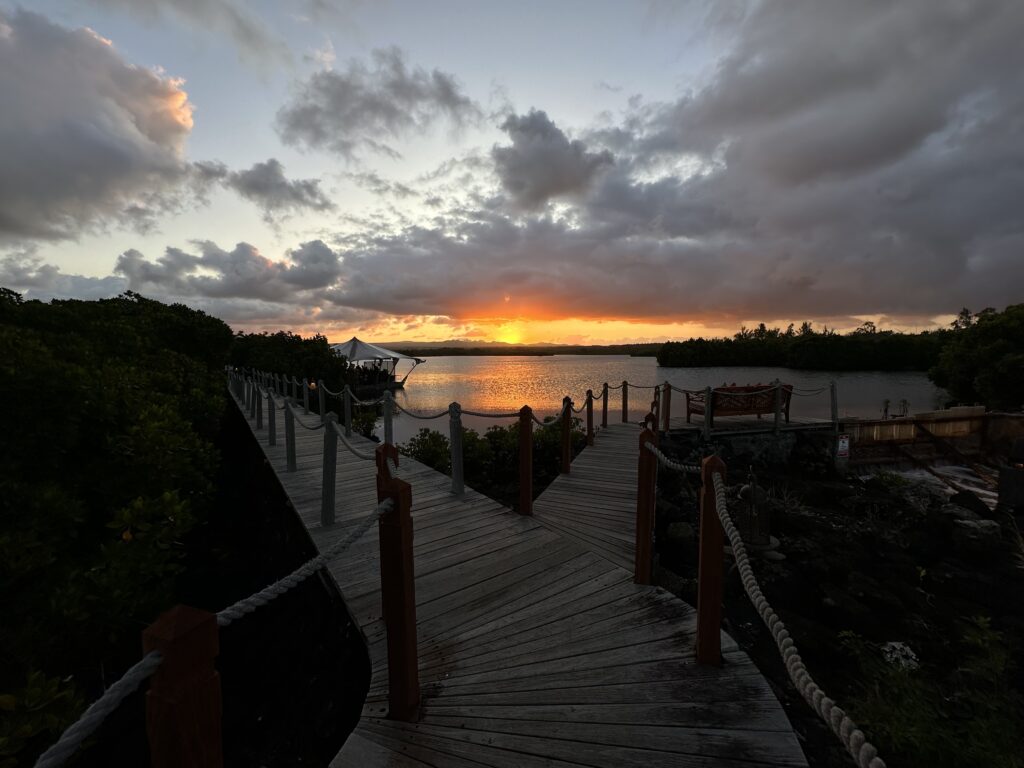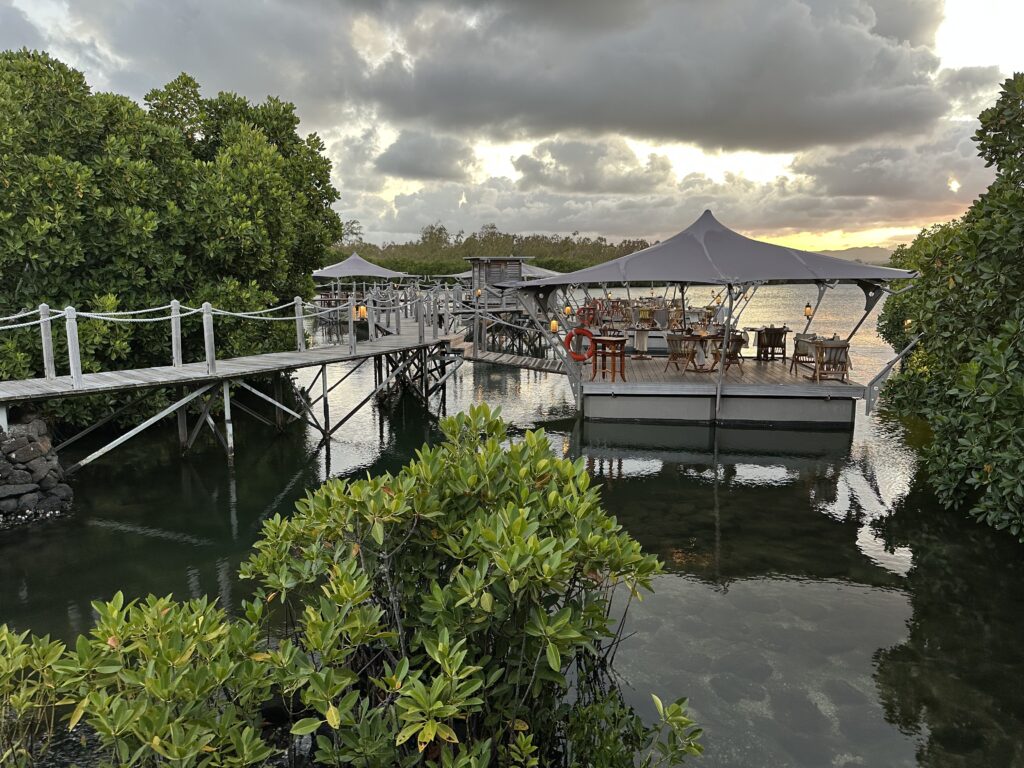 My wife is a frequent swimmer, who took advantage of the lap pool every morning while I sleep in. I would usually walk along the beach but I'm still recovering from an earlier heat stroke so understandably I was a bit allergic to the sun, BUT not the SPA. We both took advantage of the SPA services, taking on a Deep Tissue and a Balinese massage spanning across two days. The masseuse that I had — she was phenomenal — probably the best masseuse that I have ever had, and I have been getting massages for many decades. Once again I have to apologize for not remembering her name. Something about Mauritian multi-syllable names always throw me out.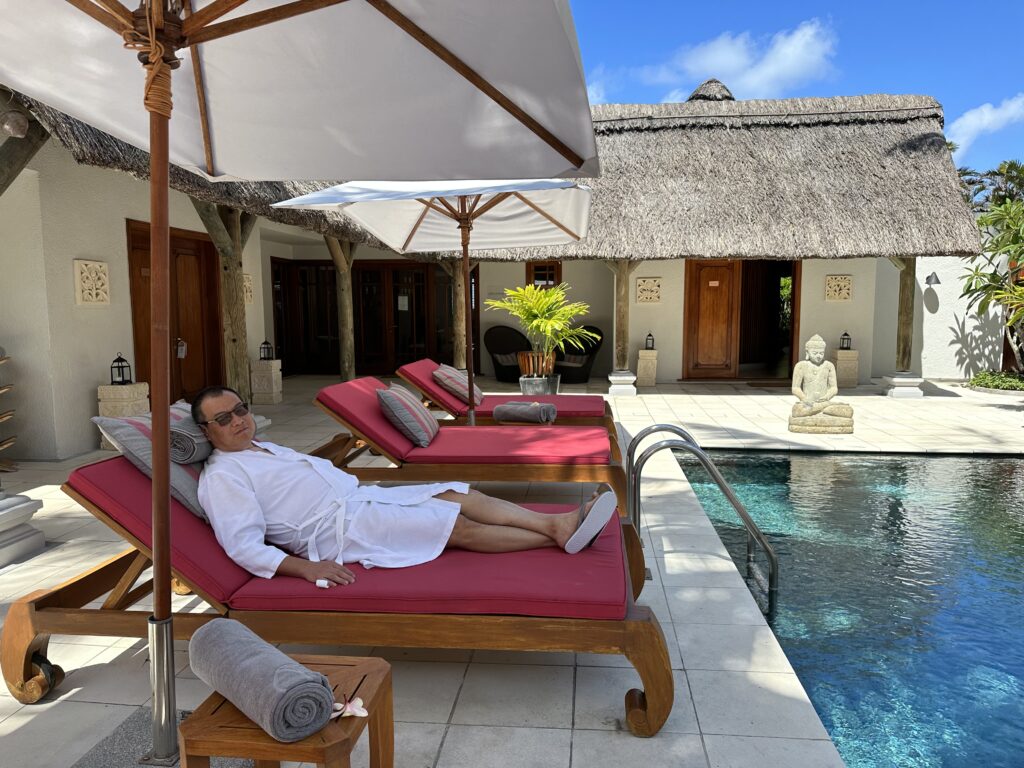 On our last night, another wonderful conversation with Atish, our housekeeping supervisor, whose department arranged a wonderful flower petals covered bath which my wife thoroughly enjoyed. Happy wife, happy life!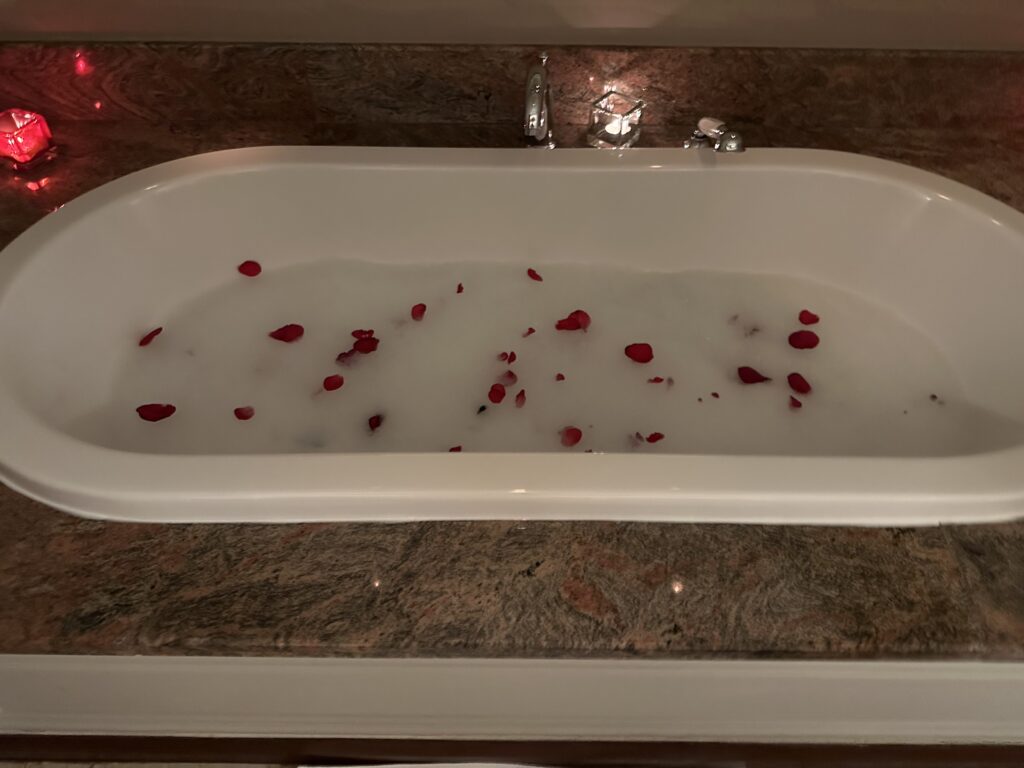 As I am writing this in the last few hours of our stay, I just wanted to thank every staff member at Constance Prince Maurice for a truly wonderful, and relaxing experience that was sorely needed from the hustling and bustling of noise infested traffic of Port Louis.
Last and certainly not least, our many thanks to Jean-Philippe who facilitated to help bringing this heavenly, paradise experience to us. We also appreciated the early and late check-in and check-out respectively, allowing to savour our relaxation as long as we can, before rejoining the crowd in the whistling winds.
If the fruits of life are happy memories, then the Constance Prince Maurice is certainly an orchard ripe of such fruits! We look forward to more harvesting at our next Constance experience.