We just returned from Mauritius in the afternoon of October 24th. We left Mauritius on an Air Mauritius flight at around 11pm at night on October 23rd, and arrive the next day at around 4pm in Toronto, with a 6 hours layover in Paris. If you do the math, we have a total of 25 hours from the first takeoff to the final landing, and 19 hours of actual flight time when the layover time is accounted for. If you count, the transit and waiting to and from the airport, which is another 5 hours in Mauritius, and 1½ hours in Toronto, that is a total of 31½ hours door to door time from our vacation condo in Mauritius to the front door of our home in Richmond Hill. Whew!
The arduous travel itinerary aside, we had a wonderful stay in Mauritius. We stayed at the Residence Abrico near Mon Choisy beach. The owner was wonderful and the place was just right for the four of us. For 33 nights, and the privilege of both early check-in and late check-out, we paid less than $2200 CAD. You can read my review here. I also rented a car from Azam Joomun, who resided in Grand Bay. My cousin Nathalie arranged an excellent price for the car. The car is a Suzuki compact car with automatic transmission, perfect size for the cramped lanes in Mauritius. For the entire month of our stay, we paid less than $600 CAD. The combination of a wonderful condo with free parking, and a rental car resulted in absolute freedom to explore the island and command our own schedule during our stay.
It took about a week to fully acclimate myself to driving on the opposite side of the road and on the opposite side of the car. That particular change is difficult enough, but why the car manufacturer had to also switch the windshield wiper and turn signalling levers as well? I totally do not understand that design decision. As a result, I constantly turn on the wipers when I really just wanted to signal my turn.
Nonetheless possessing a car allowed us to drive to neighbouring malls like La Croisette and Super U Grand Bay, to purchase convenient groceries, toiletry supplies, etc. If we are lazy, then there are plenty of restaurants in Grand Bay near the coast for us to sample. We also discovered Chez Popo Supermarket, that has a more international selection at its store. If we really, really miss the super malls of the West, then we can drive to Bagatelle Shopping Mall South of Port Louis.
With the car, we can visit family who resided in Port Louis, as well as other regions such as Rose Hill, Pereybere, and Balaclava. Aside from the beaches, reacquainting with family members and catching up is the other highlight of the trip. Speaking of family, we also took the opportunity to pay respect to my grandparents and other memorable family figures at the Bois Marchand Cemetery. Let's face it. If it was not for family, going to the Caribbean can probably have similar access to paradise like beaches and comfort.
Of course the other reason for being in Mauritius is to ensure that we get our fill of Mauritian street food, such as Roti and Dhal Puri. These pancake like delights are pasted with the usual curry or tomato based fillings. The baguette sandwiches that we got from street stall on BourBon St North of Royal Rd were also very delicious. This place is literally downstairs from our family grand central nexus in Port Louis at La Rue Royal, which makes it super convenient for breakfast, brunch, and lunch!
On our second day, our Uncle Claude and family invited us to eat at Restaurant Lai Min, a restaurant with literally decades of history in Chinatown of the Mauritian capital city, Port Louis. That meal was exquisite! I don't know whether I was hungry or not, but everything from the soup, the deep fried calamari, the Hakka dishes, and the chicken were all very savoury and I devoured them all to my happy and fulfilling belly. Throughout our stay, we frequented Lai Min and the food there has never disappointed.
On a similar note, The City Orient Restaurant, near our family's place in Port Louis was also delicious. The stir fry dishes, and winter melon soup were all very memorable to my palate. Thank you Uncle Regis, and Auntie Dominique for treating us there. The dumplings, fried noodles and vermicelli at the Restaurant Panda were extremely moreish. A big thank you to Auntie Mary and Josiane of showing and treating us to Panda.
Our cousin Jimmy treated us to local Creole food at Friends Cafe-Restaurant. This provided a unique experience. It is not Chinese and not Western food. A different mixture of spices and a combination and interpretation of different cooking techniques from different culture. That night was a tasty experience.
The restaurant food is one thing, but family cooked meals like the dishes provided by Auntie Maryse, Ah Manfa, and Ah Moy, were all very good. Personally I think their personal touch made their food better than the restaurants.
Mauritian cuisine is good, but in the end, one earns the variety and quality that Toronto culinary reputations have to offer. However, one can never get tired of the fresh baguettes in Mauritius. We found a local bakery that we can walk to during the morning. It is located just South of the pharmacy on Trou Aux Biches Rd. At the bakery, we can have a long fresh baguette for just 5 Rs! That is equivalent to a little over $0.15 CAD. I've been told that the flour is subsidized that is why it is so cheap.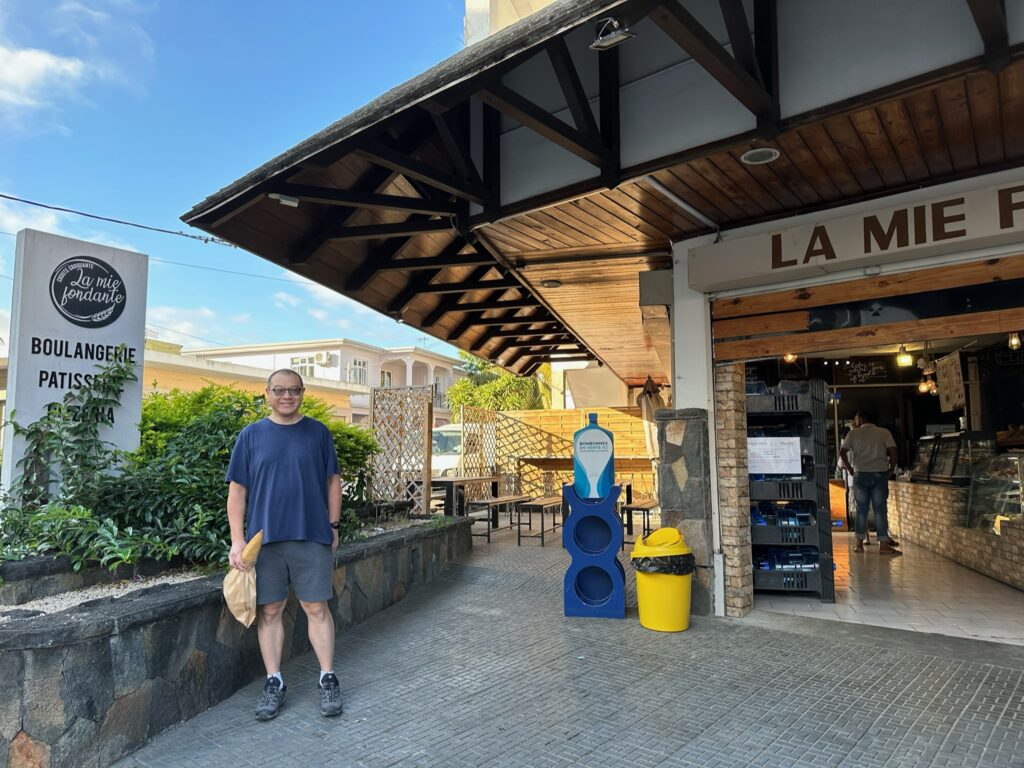 Having our family largely centred in the city of Port Louis, I have to drive and park there. The experience of driving in Port Louis during morning and afternoon rush hours is not for the faint of heart. One has stay calm and possess nerves of steel to get to where you want to go. If you drive with hesitancy, you will get no where fast. Parking is another matter. During my stay, I either park at my relatives who reside outside of the commercial district of the city, and then simply do a 20 minute walk to city centre, or I give up and park at Dias Pier Parking at Caudan. The latter costs money, but it is so much more stress free, and relative to Canadian parking rates it is cheaper beyond any comparison. If I park at Caudan during the weekdays, then I usually move the car back to our family building at La Rue Royal at around 5:30pm to 6pm. If it was the weekend, then Saturday after 2pm or anytime Sunday I can usually find parking near La Rue Royal.
Our rental condo is already pretty satisfying with a semi-private pool steps away, and a pretty quiet, beautiful beach minutes walk away. We still have to plan our meals, do laundry, and wash our dishes. For a real relaxing experience, we decided to stay a couple of nights at Constance Prince Maurice. You can read my review here. I can summarize by saying that it was heavenly.
We also took a sojourn of 4 days to the Rodrigues island, which is also part of Mauritius, staying at the Cotton Bay Resort. The beaches and scenery there was beautiful, and we love to sleep with the natural sound of the waves, and the nighttime stars were glistening and calming. The locals on the island were friendly, and the hotel services were indicative of the island's gentle and calm culture.
Our trip ended with a big climax with our Uncle Claude's 85th birthday celebration, which was held at the Opium Restaurant. It was a unique location. The restaurant is actually situated above an Audi car dealership. The decor was the most beautiful Chinese restaurant that we have experienced on the island. The food was prepared by a chef from Hong Kong. The family and food combination created a celebratory atmosphere that is difficult to forget. We thoroughly enjoyed ourselves.
I started out this post with a notion that Mauritius is not an easy place to get to, at least from the Eastern part of Canada. Having said that, the generosity and welcoming nature of our family makes the visit memorable. Although when we left on the 23rd of October, there is a mixed feeling of the desire to return home, and the sadness of not seeing some family members for sometime.
One thing is certain, we left happy. Although the company of family may have been cut short, the memories that we created here on this visit will be ever lasting. I want to thank all my Mauritian family members who helped to make our stay as memorable as it is. To ensure of this, my next task is ahead of me is the video editing of all the footages marking those happy memories!