If it was a normal year, my kids will be going to school tomorrow, the traditional first Tuesday after Labour Day long weekend. We all know 2020 is not a normal year. We are in the midst of a pandemic, and along with this crisis comes with special circumstances. Public schooling is no exception to special treatments. All of this is quite understandable and expected.
What is disappointing is that our school board and our government has had many months to prepare since March of this year, and yet as a parent of two secondary school students, I feel that our schools are woefully unprepared. Yes, they have provided emails, videos, and web resources filled with general information, along with "more information to come", but nothing concrete and specific to my kids' schedule. There are sample schedules to be sure, but the answers communicated so far raises more questions than answers. For example, as of the writing of this post, we still do not know:
When exactly is the first day of school (physically)?
Which cohort?
How does a student who opted for virtual learning register?
What are the details to synchronous virtual / online learning for those who have chosen in-person learning?
Will the above information come from a future email before school starts, or will they get it on the first day of school?
The best information so far is from this web page (http://www.yrdsb.ca/school-reopening). The most important excerpts are: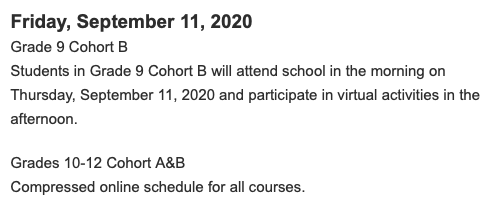 So if your child is going to grade 9, you currently do not know which cohort. If your child is not in grade 9, they currently do not have any information to attend the so called, "Compressed online schedule for all courses".

The information for Thursday, Friday, and Monday could not be more cryptic for students who are in grades 10 to 12, because we were lead to believe from previous emails that the idea of cohorts is that the in-person sessions are staggered to be held on alternate days. The above Monday description seems a little contradictory to our previous expectation.
The school board is effectively launching a new service or product, and yet their communication for this new service is well below industry standard. Compare the board's effort in launching this "re-opening" with product launches from Apple, Tesla, Samsung, and others. I think you will find the difference quite stark.
Is my expectation too high? Perhaps. However, these are the folks who bear the responsibility for teaching our next generation. Collectively as a decision making body, and the execution of this re-opening clearly show "they" do not fully comprehend how to launch something new. Think about this, as this is the example that your kids will be learning from!
Thankfully, the uncertainty does not affect our family too much, but I hate to be a parent of a grade 9 student who is standing on pins and needles as they try to comprehend how they are going to plan for this week and the next. I truly feel for them.