In January of this year, I decided to purchase a Titanium bike and decided on the No. 22 Great Divide. I went from Aluminum to Carbon and thought I should give Titanium a try. The solid space age material has a long lasting appeal and the metal finish is super cool.
Yesterday it was finally ready, and we went to La Bicicletta to pick up my brand new road bike. Henry and Davide were excellent help from the store and together we customized the bike with:
SRAM Red eTap Shifters
SRAM Red front and rear brakes
SRAM Red DZero Power Meter
SRAM Red 50/34 crank set with 172.5 crank length
SRAM Red 11-28 cassette
3T cockpit with ARX II Team Stem
3T Ionic Seat Post with Prologo Saddle and TiroX rails
Reynolds Assault Wheelset
Continental Grand Prix 4000 S II 25mm tires
Chris King ThreadFit T47 bottom bracket and headset
Stock carbon forks from No. 22
Here she is: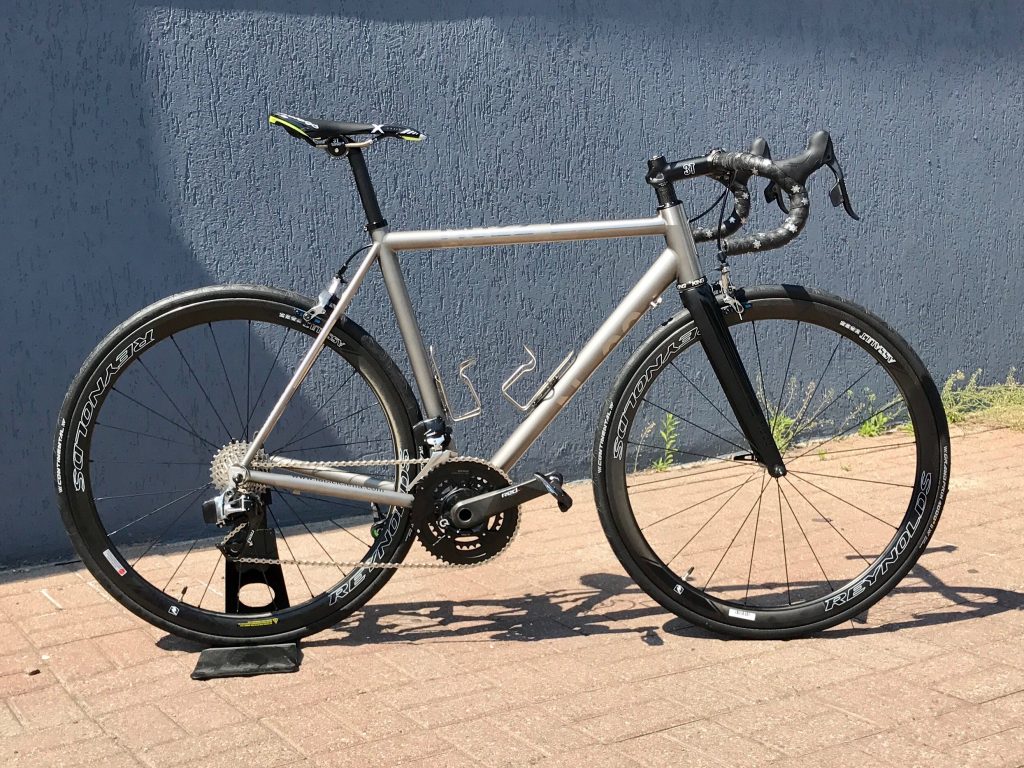 It was effortless to pair my old Garmin Edge 500 to the DZero power meter. I did have to 3D print an extra Garmin holder. I pulled the file from Thingiverse . It fit like a charm. Took it out for a test ride to make sure that all the gears are working and nothing is loose.
This morning, did a 49km ride with friends:
This is my first time riding with a compact gear ratio. There were many thing that I had to get use to, first the new eTap shifting; I came from Shimano Di2 shifting. The 50/34 ratio allowed me to stay on the big ring for the majority of the ride, but I had to get use to when to switch between the big and small rings up front. The new bike is about 0.5 lb heavier than my old Cervelo R5, but I did not notice the weight gain on the road this morning. When I made the decision to buy a Titanium bike I had some reservations. The biggest one was will it be more bumpy on pot-hole filled roads? The answer is not at all! I was very surprised how smooth the bike was on both bumpy and smooth roads. The power transfer was excellent when I stood up to power through some of the short hills this morning. My knees thanked me for the switch to compact gear ratios.
I am really grateful for the attention to detail and the service that I have received from Henry and Davide at La Bicicletta. Davide did a superb job in the bike fitting process, and the bike felt really natural this morning. I think the new dimensions work so well, that I'll be copying them to my old R5. I would recommend any one to go there if they are seeking to purchase a bicycle for any purpose. They were super professional and friendly, and they delivered an excellent bike with a quality purchasing experience. Even if you have issues with bike fitting, they can help you out with that.
All in all I am super happy with my new mistress, and I'll be riding her a lot this summer.