This week I received a promotional message on my iPhone from Rogers indicating that Rogers Ignite 500u is now available in my area. As of today, our household was using Rogers Ignite 250u. I called Rogers to have the upgrade, but a modem upgrade is required.
I did not really want to visit a Rogers Centre to pickup the modem, so the support person on the phone was very helpful and arranged to have a service person to make a house call to exchange the modem. The service person came on time and the modem was switched out without any issues.
I demanded that the modem be placed in bridge mode because I have my own firewall and WiFi routers. The service person told me that the Hitron CODA-4582 is a better WiFi router. I told him that I do not want a Rogers employee at their network operations centre to gain access to my internal and WiFi network. He was really accommodating and helpful but did not know how to place the new Hitron modem into bridge mode until I showed him this page.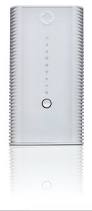 He finally called it in and a person performed the configuration remotely. I also noticed the Hitron stored the WiFi admin password in clear text.
This means any one who is running a Hitron in non-bridge mode and is also functioning as your firewall, then any Rogers employee who is working in the network operations centre or their support team has access to your devices connected to your modem.  Just beware! I've enlightened the service person to this exposure as well. He was a fine gentleman and I thanked him for his prompt service.
Now our house has higher speed Internet access with 500Mbps down and 20Mbps up!