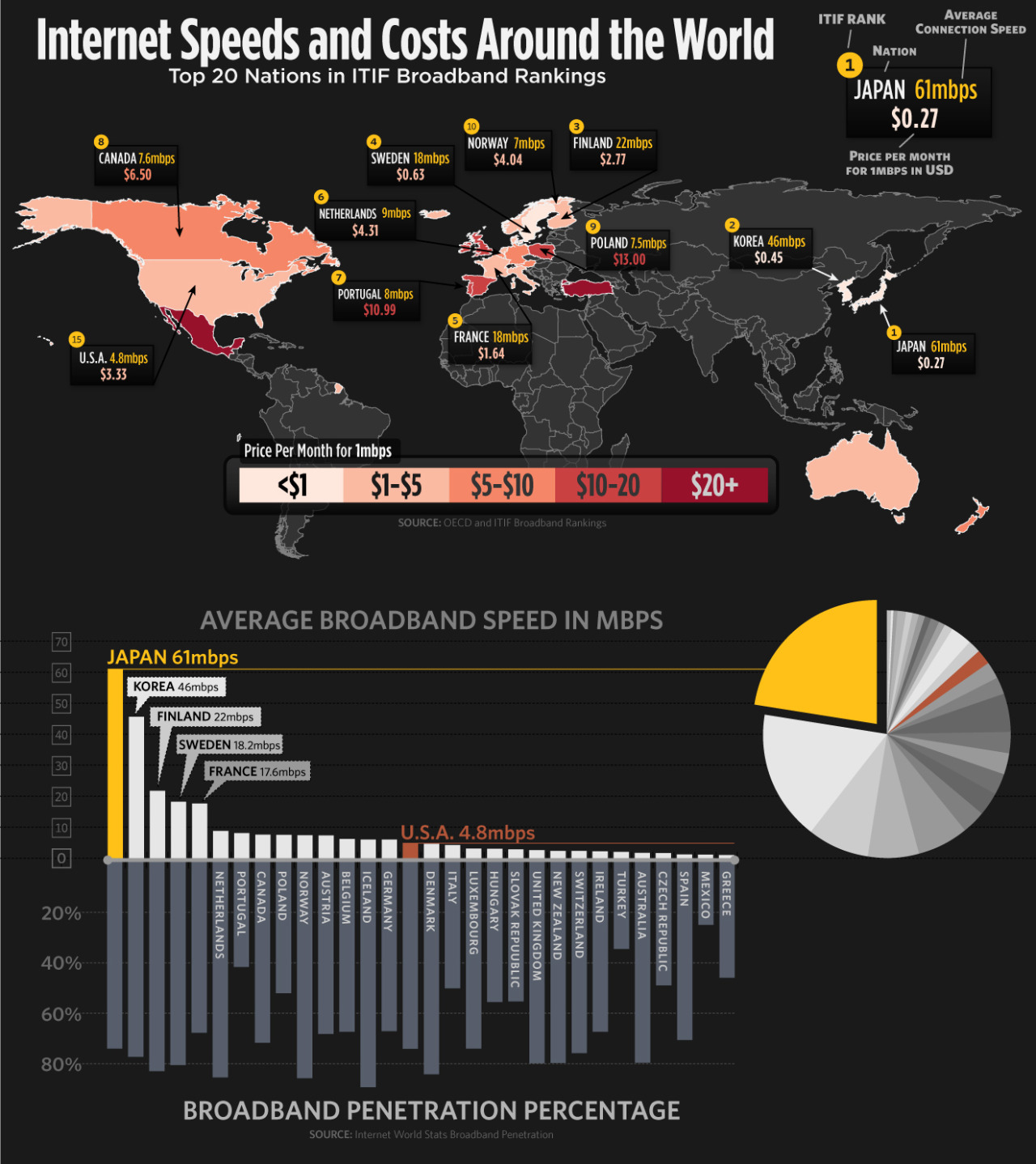 Internet usage and speed around the world.
The topic of net neutrality is a hot topic today. With all this talk about traffic shaping and bandwidth caps, I suddenly had a thought about a potential audit that can be applied to ISP's. Here is my line of thinking:
Every ISP show how connects to the Internet backbone either directly or indirectly. They all have a bottleneck throughput data rate as a result of this connection. If we use that throughput, then the maximum, total number of bytes that can be transferred in a day or in a month by the ISP can be calculated. This value can represent the capacity in GB that an ISP can sustain within a given month.
The question that I have is will this monthly capacity be more or less than the total number of GB cap that ISP such as Rogers is charging on their collective customers? I don't know the answer to this question, but it is fun to ponder what happens if it is more than the theoretical maximum monthly capacity. If so, are they not over promising? What if they are? One can argue that it is unrealistic to expect that everyone will max out their Internet usage at the same time. A reasonable argument. So what is an allowable or expected percentage of usage that is reasonable? 5%? 10%?
I don't know the answer unfortunately. The more I think about this, the more I think that ISP has the potential of being banks. Instead of cash, they deal with bytes. Canadian Chartered Banks are mandated to keep a certain cash reserve that is equal to 7% of their loans. Should ISP's be held accountable to a certain usage% as well? I really am not sure where I am heading here, but just providing food for thought I guess.
Posted from: ON M6K 3C3, Canada
The day started out with a fairly jovial Outlook as my brother-in-law and I were destined for the bike show this morning.  The bike show was pretty good, an eye opener for sure, but there were not that many deals that we were able to take advantage of.
Here are some pictures that I took of the event:
A nice racer.
It was so packed at the Wheels on Bloor section we couldn't even get closer.  May be considering a Cervelo, if I can afford it.
A set of warm gloves that i wanted for early spring or late fall riding, but the check out line was too long to worth the hassle.
Here are some assorted pedals that would have been great with my cheap bike going to work.  But again, the checkout line was a bit discouraging.
In addition to the bikes and accessories, I saw an old colleague, Rick, there.  It was good chatting with him again.  I wish him luck in future triathlons.
After the show we decided to goto China Town for some lunch.  This is when the day turned tough.  While parking, I accidentally backed into a Mercedes C350 and dented his driver side door.  I could have sworn the car wasn't there when I initiated the reverse, when I heard the horn it was all over.  Sorry no pictures of the disaster.
Came back home and started to have digestive issues.  Probably too much walking today, we'll rest tonight.
Here is a quick video taken with my iPhone 3GS posted at kanglu.posterous.com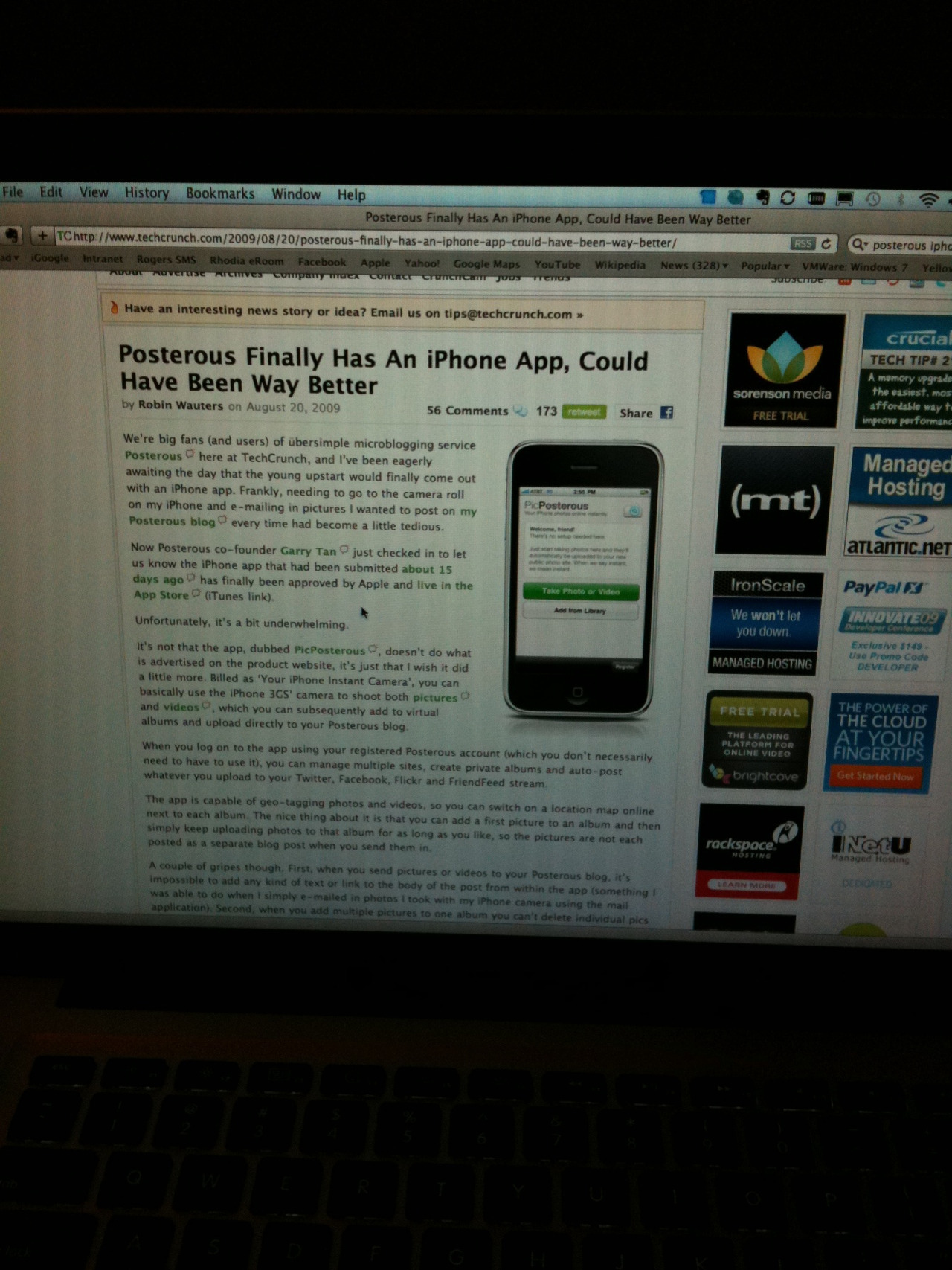 A sample post with a picture.
This is a test comment.