I love Amazon Prime. You'll see why later.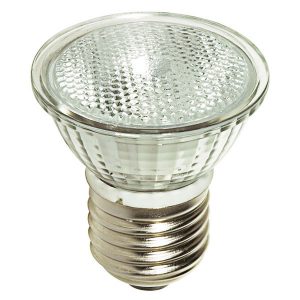 Our basement were filled with these old Halogen MR16 pot lights that each took up 50W each! I had ten of them, so this ends up to be half a kWh. This means at an average rate of $0.13 / kWh, I'm burning about a quarter every two hours. This may not seem much in the beginning, but it adds up. I'll let you do the math for a month and a year.
I went to Amazon and found an LED equivalent called PAR16, and found them at Can Lighting Inc. They had a package of ten, so I ordered them. With Amazon Prime, they arrived the day after, which was yesterday, with free shipping.
Now instead of 50W each they are only burning 6W each, 12% of the original cost.
I also learned that the number after MR or PAR is the width of bulb in 1/8 of an inch, so 16 is 2 inches or approximately 50 cm. The screw on base is called E26, instead of the small two prongs called Gu10. Very confusing!