At this point in time, all of our family members have our first dose of the Pfizer vaccine, and we are awaiting our second dose. As the Delta variant of the Covid-19 vaccine makes its way around the world, numerous reports are indicating that those who only have their first dose are only 33% protected from this variant.
Of course knowing this fact creates an a certain anxiety and urgency to get our second dose. Although we all have our second dose already scheduled when we got our first dose, those original schedules are weeks away. York Region today from 8am started taking appointments for rebooking second doses. This is of course very welcoming.
Unfortunately, as expected the scheduling web site experience leave very little to be desired.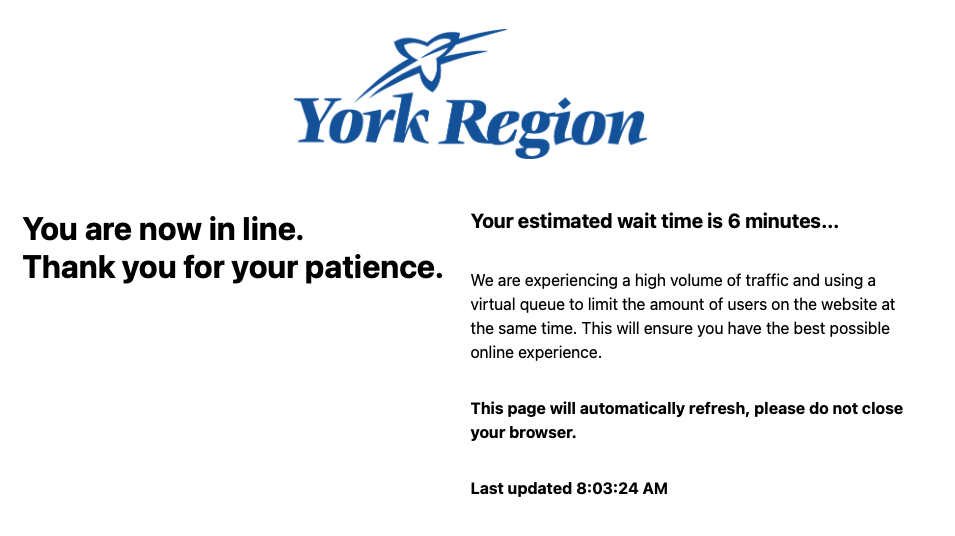 I visited the site at around 7:50am, and it told me that I was in line and I had a 10 minutes wait. At this point, it is very reasonable, since it officially starts at 8am. I took the screen shot above, and as you can see the waiting time hasn't really gone down and we have already passed our initial 10 minutes. To make matters worse, at around the 5 minutes mark, it immediately presented the booking form.
My sons who visited the site at 8am sharp got a waiting period of 1 hour. You can see how discouraging for some can be. Never mind vaccine hesitancy, it is these types of frictional booking experience that probably also discourages people from getting their doses. I really don't understand why it is taking the organization so long to get there act together. Perhaps I'm being too harsh.
On the plus side, I did finally manage to book all members of my family for our second dose, because the site did allow me to make multiple bookings without having to virtually re-queue.