Today I will be talking about the beginning of the TV.
The Electronic television made its first appearance on September 3, 1928, to the public. The inventor of the TV was Philo Farnsworth. Philo actually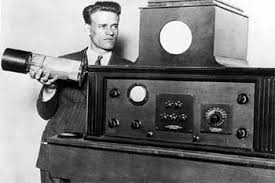 didn't even come up with the idea. The Idea for TV came from a German man named, Paul Julius Gottlieb Nipkow. Paul came up with the idea in 1884 and experiments started in 1922. The idea was, there was a disk with holes in it. The holes would scan an image and produce an image. Those kinds of TV would come to be known as the Mechanical TV because of the spinning disk.
Over the years, with advancement in electronics, Mechanical TV got replaced with the electronic TV. Philo cam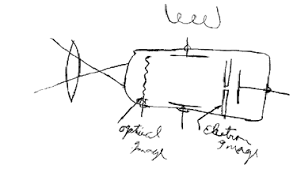 e up with the idea of the electronic TV in high school. Basically, the idea for the electronic TV was that a cathode ray tube would fire electrons into an image row by row. The electrons would be sent through a cable, and the electrons would be fired against a screen, and project an image on the other side of the screen. The images on the screen assembled into fluid motion because it was happening very fast. However, when Philo finished his prototype his rival Vladimir Zworykint also finish his prototype. This eventually led to a court fight for the tv rights. The deciding piece of evidence was a photo of Philo's first concept idea he drew in school. Soon the first TVs would soon be massed produced in the 1900's.
Next, I will talk about the problems with mass producing the TV, and the innovation of colour TV in my next blog.